At the Indian Pueblo Cultural Center in Albuquerque, food is taking the forefront when it comes to honoring the cultures of New Mexico's 19 Pueblo Nations.
Founded in 1976 by the 19 Pueblo Tribes of New Mexico, the IPCC is a world-class museum and cultural event center. The IPCC's mission is to preserve and perpetuate Pueblo culture, and to advance understanding by presenting with dignity and respect the accomplishments and evolving history of the Pueblo peoples of New Mexico.
The IPCC's Pueblo Harvest Café had long been a favorite Albuquerque restaurant, known for serving delicious, contemporary meals using pre-contact ingredients including a healthy dose of New Mexico's famous chile. In an effort to further educate and promote Pueblo culinary heritage, the restaurant changed its name in 2020 to the Indian Pueblo Kitchen. Executive Chef Ray Naranjo (Santa Clara Pueblo/Odawa) wanted to bring the kitchen forward in order to immerse diners in the ingredients, techniques and stories of his dishes.
Chef Ray is a graduate of Le Cordon Bleu College of Culinary Arts-Scottsdale and has more than 25 years experience in fine cuisine. He says he seeks to demonstrate how ancient techniques and ingredients can greatly enhance modern meals, and the importance of preserving ancestral food knowledge. Chef Ray calls his style "contemporary indigenous gastronomy of North America from an ancestral Tewa perspective."
Dinner is now an immersive experience as guests watch and listen to Chef Ray and his staff explain history and significance of ingredients as they're included in meals. A horno oven bakes food as staff and guests discuss the history of indigenous ingredients, such as how South American food traveled to what is now New Mexico. Cooking classes are offered in the kitchen as are wine-pairing dinners and special farm-to-fork diners.
In 2020 when the IPCC was closed due to the pandemic Chef Ray launched the Pante Project, a meal service in which customers pickup pre-fixe meals at the IPCC and then join Chef Ray online to learn about his preparation techniques and the significance of the meals ingredients. An example of one of his take-home-and-learn diners is a menu of "Pure Heirloom Squash Bisque, Cedar House Smoked Salmon with Blueberry Maple Gastrique, Nixtamalized Blue Corn with Roasted Sprouted Sunflower Seeds, Truffle-Scented Roasted Forest Mushrooms, and Wild Berries Compote with Acorn Flour Crumble." The success of this program has encouraged him to continue the Pante Project even as dining rooms reopen.
Corn, beans, squash and other produce are sourced in part from the IPCC's Resilience Garden. Staff and invited experts including Pueblo Elders use this demonstration garden to teach traditional Pueblo farming techniques to grow traditional crops. On the third Sunday monthly from March through October hands-on gardening classes are taught. Each month's class focuses on the garden's growing cycle, from planting seeds and proper watering to weeding and dealing with pests to harvesting. Seasons of Growth classes, part of the center's Traditional Teachings Camp, introduce youth to the principles and skills of arid gardening.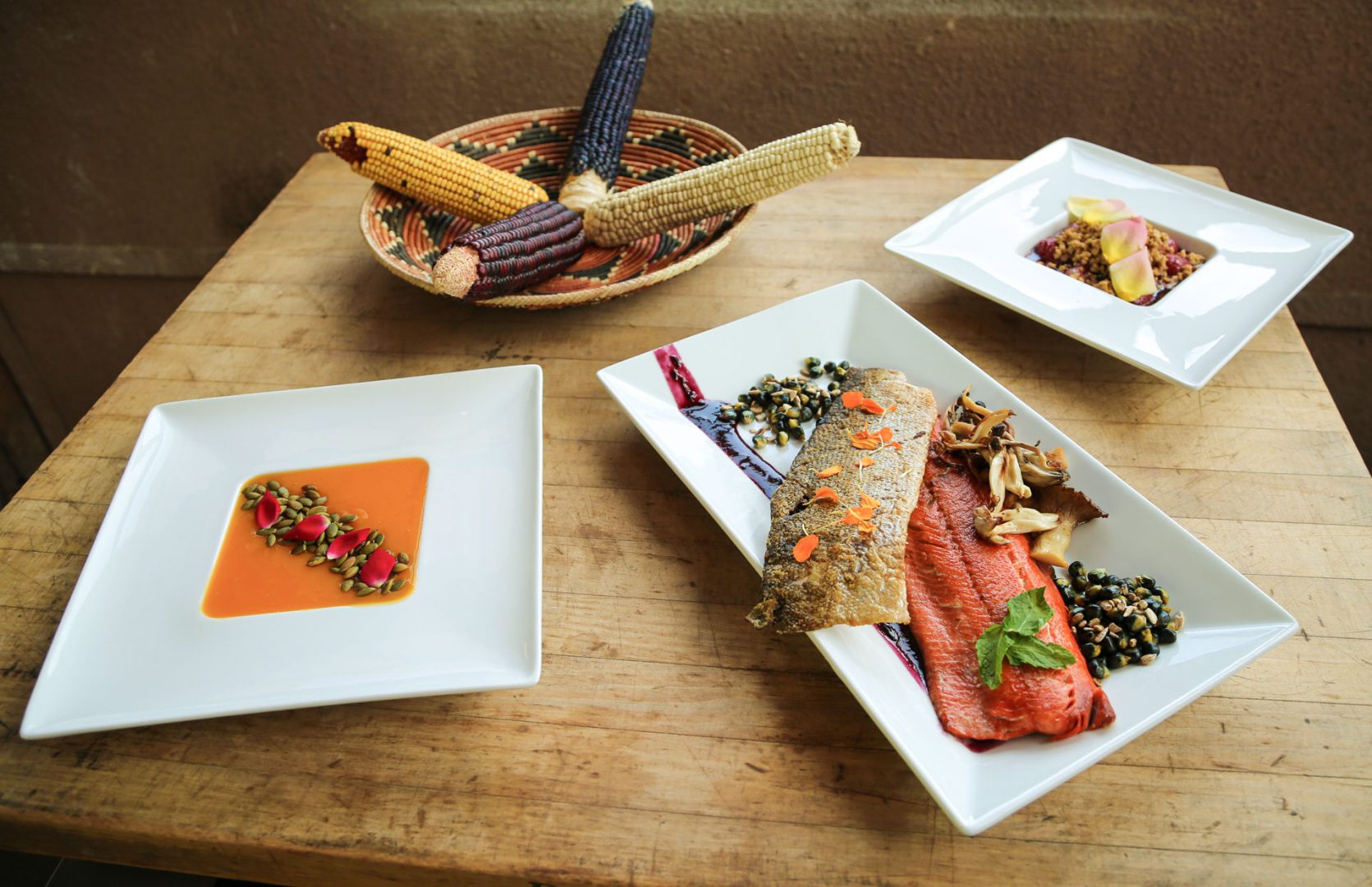 The IPCC is also constructing a commercial greenhouse and kitchen to help other Pueblo chefs develop their culinary business ideas. Entrepreneurs can source produce from the greenhouse and develop recipes and products in the commercial kitchen. The center is hopeful that a wide-range of Native small-businesses, including owners of food trucks and online food shops, will benefit from the facilities.
"One of the most memorable moments for our guests seeking a deeper connection to Pueblo people and culture is a one-of-a-kind dining experience at the Cultural Center's restaurant," said Dr. Beverlee J. McClure, Vice President of Community and Cultural Engagement. "The Indian Pueblo Kitchen will carry on that tradition of creative, Native American culinary artistry and Pueblo hospitality and will now provide exciting opportunities for students to learn Indigenous cooking techniques and restaurant operations and management in an engaging, collaborative environment—preparing them for a future in the hospitality industry."
For more information about the Indian Pueblo Cultural Center's culinary programs visit indianpueblo.org.