Agriculture may not be the first thing to come to mind when visiting Santa Ana Pueblo in New Mexico, a landscape of sun-swept mesas and sage-studded desert. But agriculture and the knowledge of how to coax abundant crops from this seemingly harsh land is part of the foundation of Santa Ana Pueblo's history and culture. And today, this agricultural spirit is infused into Santa Ana Pueblo's tourism enterprises and shared with the world through agritourism.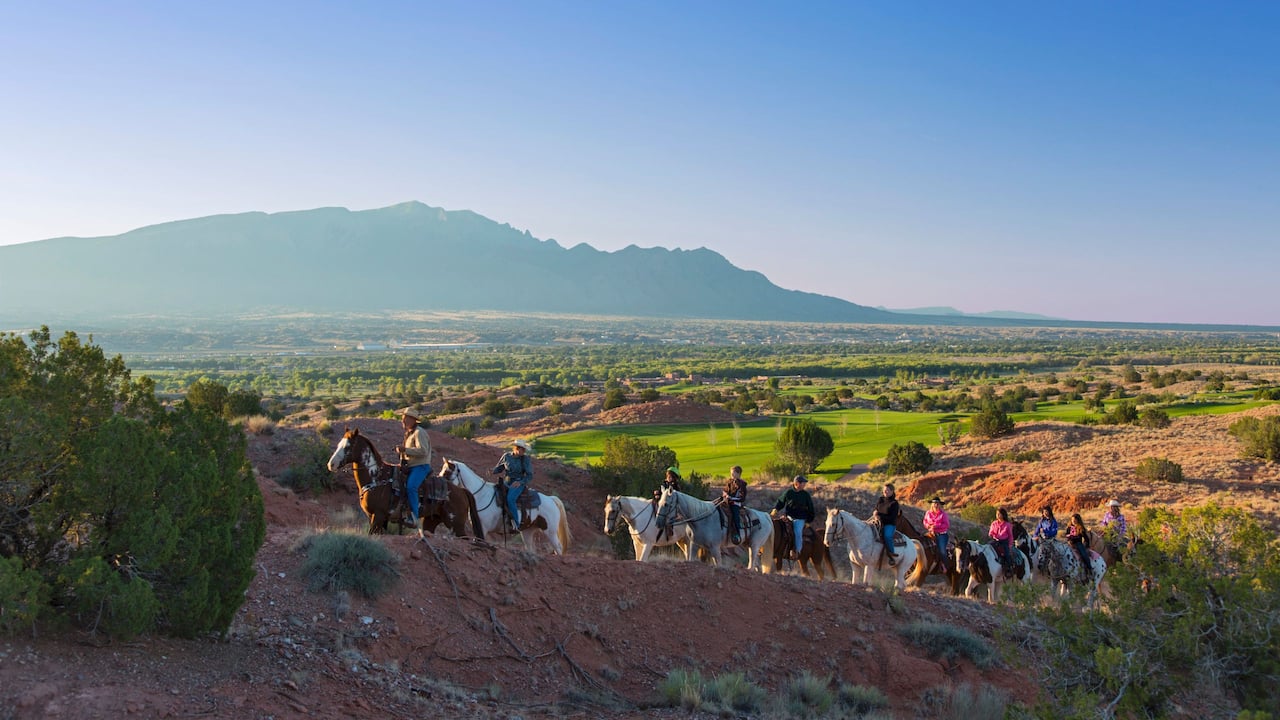 Visitors from around the world savor Santa Ana Pueblo blue and yellow corn in the Pueblo's fine-dining Corn Maiden and Prairie Star restaurants. Indigenous plants and trees are sold at the Santa Ana Garden Center. And, most recently, guests can enjoy Gruet wine made with grapes grown at Santa Ana Pueblo Vineyard.
By once again using their land for agriculture, Santa Ana Pueblo benefits economically and creates jobs while honoring its history and culture, and sharing that with the greater world.
Santa Ana Pueblo
Located near the town of Bernalillo, this 79,000-acre nation of fewer than 700 members has occupied this land since the 1500s. Before then, their history says they migrated from the Four Corners region, through the Galisteo Basin near Santa Fe before building their adobe village Tamaya–Place of the People–at the base of a mesa some 27 miles northwest of current-day Albuquerque. This village–called Tamaya–still stands, and is the cultural and spiritual heart of the Pueblo. Most members maintain a traditional family home here and worship at its Spanish mission, Saint Anne Catholic Church. It's earthen plaza is packed hard through centuries of ceremonial dancing that continues today. These dances, such as the Butterfly and Deer dances, are prayers for bountiful harvests and successful hunting. They honor their ancestors and welcome the seasons. Nature's rhythm and order are of the utmost importance to the Tamayame, as the people of Tamaya call themselves in their Keresan language.
Changing Times
This rhythm became disrupted in the time of great societal change after World War II. Many tribal members found work off the Pueblo, and the Tribe's vast agricultural acreage was eventually leased out to non-tribal entities. Tribal members prospered with new opportunities, but some of the old ways of communal farming fell by the wayside, though many families still maintained individual farming acres.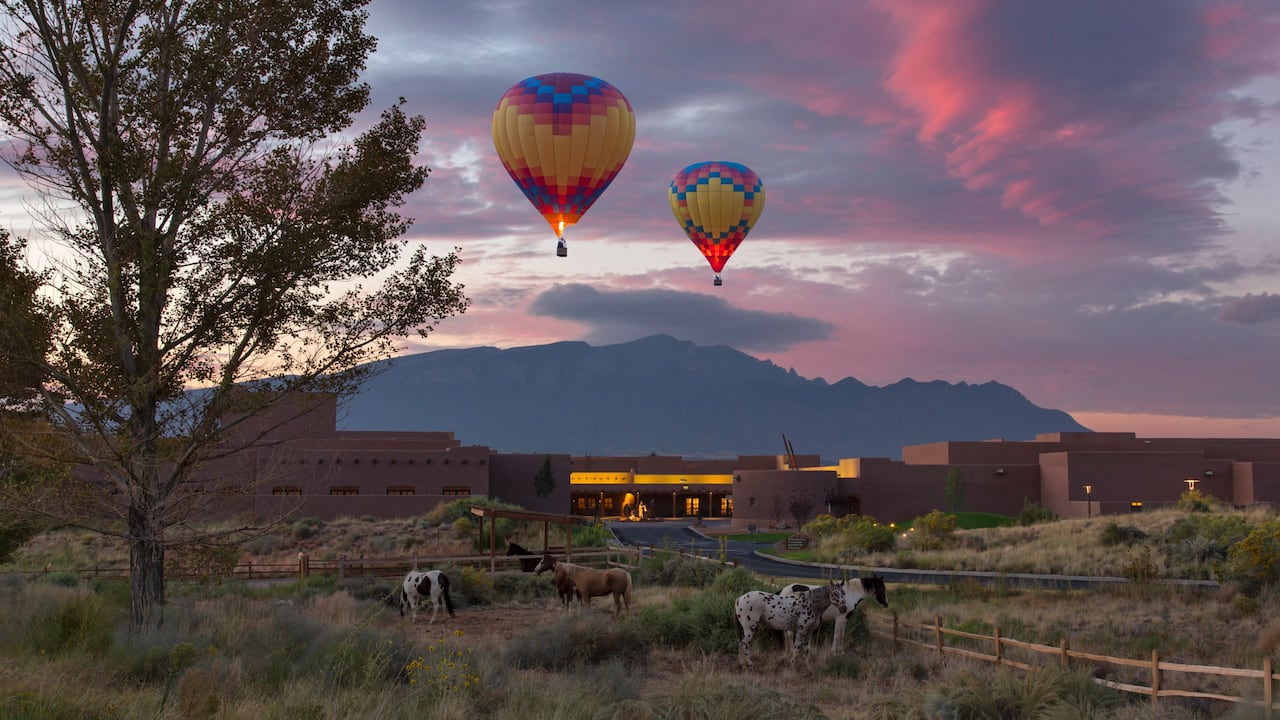 "I remember riding in the back of our pick up and helping my family in our fields, listening to stories and eating big meals afterwards," says Santa Ana Pueblo Governor Lawrence Montoya. "These are good memories that I want our kids to have today, too."
In the 1980s the tribal council decided to reclaim the Pueblo's history of communal agriculture for the benefit of its people, and established Santa Ana Pueblo Agricultural Enterprises in 1986. The Tribe ended leasing its land and was now farming for itself, creating revenue and jobs for the Tribe by growing and selling alfalfa and Sudan grass. That same year, Santa Ana Pueblo began planting blue and yellow corn, traditional crops of great importance to New Mexico's 19 Pueblo Tribes. A mill was built, and Santa Ana Pueblo could now grind and sell corn meal and flour. Also in 1986, the Tribe opened its fine-dining Prairie Star Restaurant in a historic ranch house with 18-inch-thick adobe walls, and soon began using corn it grew in menu items.
"Santa Ana has always been an agriculturally based community, and Santa Ana Pueblo's location has always been a blessing," says Joseph Bronk, Director of Santa Ana Agricultural Enterprises. Bronk came to work for the department soon after its creation in 1986 and became its director in 2000. "Santa Ana has been able to keep its traditional village and lands protected from the outside world while at the same time taking advantage of its location to make it easy for people to visit our commercial facilities today. The Pueblo has been very good about what it shares and what it keeps for itself, and keeping the two worlds separate."
Location, Location, Location
And these two worlds benefit one another, Bronk says. Modern tourism enterprises fund the tribal government and create jobs at the Pueblo. This in turn allows its members to continue Santa Ana Pueblo's traditions. And it's this culture that in-part drives tourism to Santa Ana Pueblo.
"Our department has about 30 full-time employees," he says. "And we hire around 50 seasonal employees as well throughout the year."
About 20 miles separates Santa Ana Pueblo's traditional Tamaya village, also called the Old Village, and its businesses center to the east. The Old Village nestles against a mesa surrounded by beautiful and rugged desert etched with canyons, and is the only man-made structures for miles.. The Old Village is believed to have been founded in the early 1500s near the Jemez River. Families still maintain traditional adobe homes here that have been passed down through generations. The Old Village is somewhat remote, and escaped the scrutiny of Coronado and his Conquistadores during their 1540 entry into what is now New Mexico, delaying contact with the Spanish and possible depletion of winter stores. Today, its only access road is easily gated when the tribe wishes for privacy.
Conversely, Santa Ana Pueblo's business district to the east on U.S.550 stays busy around the clock. The Santa Ana Star Casino lights the night sky with a neon glow, inviting residents of the nearby Albuquerque-bedroom communities of Bernalillo and Rio Rancho to try their luck or enjoy a game of bowling. Located close to I-25, this portion of Santa Ana Pueblo allows easy access to visitors arriving at Albuquerque's airport or local traffic from Albuquerque and Santa Fe to the north. Guests from around the world enjoy staying at Hyatt Regency Tamaya Resort and Spa, playing golf at the Twin Warriors Golf Club championship golf course, and enjoy fine-dining at the Corn Maiden and Prairie Star fine-dining restaurants. Locals enjoy all of this as well, and shop for desert-hardy plants and trees at the Santa Ana Garden Center.
Funding
Santa Ana Pueblo embarked on its agricultural projects before it had established its casino, which opened in 1993 after negotiations with the State of New Mexico, and was the first casino to open in the state. Funding for Santa Ana Pueblo's first enterprises were acquired through an Administration for Native Americans grant (ANA) through the U.S. Department of Health and Human Services. These federal ANA grants fund social economic development projects for Native American tribes (www.acf.hhs.gov/ana).
"These grants are a lot of work, and extremely competitive," Bronk says. "They want to make sure you have a well-thought out plan, and they want a lot of details. They want to know your project has a good chance of success, so there's a lot of work to produce to sell your idea. But if you're selected for it they'll fund your operation and even pay salaries for the first three years. We're talking a lot of dollars. It's a great thing, but it takes a lot of work to prepare and file your report."
ANA grants fund successful applicants for one, two or three years, after which they are expected to be self-sufficient. A panel reviews all applications and decides upon grant recipients based on scores assigned to each portion on the grant proposal. Training and technical assistance can be provided through the ANA grants as well.
Santa Ana Pueblo's m
ost recent ANA grant allowed it to plant its vineyard in 2014, establish infrastructure and irrigation, and hire seasonal workers. Today, the 30-acre vineyard in cooperation with Albuquerque-based Gruet winery produces 140 tons of Pinot Noir, Chardonnay and Pinot Meunier grapes at 5,200 feet, making the Pinot Noir some of the highest-grown such grapes in the world.
"New Mexico, and especially this area, was the first grape-growing region in what is now the U.S.," Bronk says. "Franciscan friars traveling with the Spanish planted grapes here to make sacramental wine in 1629."
Brock also emphazises the importance of water and water rights for Santa Ana Pueblo's future.
"Through state and federal contracts, Santa Ana and other Tribes along the Rio Grande are able to use as much water as we need," Brock says. "But water is a limited and valuable resource, especially in the desert. We understand that if we don't use it, we may lose it. So it's important for us to respect the water and establish a track record of usage for Santa Ana Pueblo so that in the future a state engineer can't say 'Well, we're going to cap you at what you're currently using,' and limit future projects and growth."
Agricultural Divisions
Thanks to hard work by the Santa Ana Pueblo Agricultural Enterprises and successful ANA grant applications, the department oversees five enterprises:
Santa Ana Farm was the Pueblo's first business, established in 1986. This 130-acre farm primarily grows alfalfa and Sudan grass (a hybrid of sorghum and drummondii) that is sold to ranchers as livestock feed. The farm's equipment and staff are also available to tribal members who need farming help such as plowing their family fields. All Tribal members may take advantage of this service. "In this way the commercial operation also keeps the traditional family farming alive at Santa Ana," Brock says.

Santa Ana Blue Corn and Mill, also established in 1986, grows yellow and blue corn–a nutritious crop that has long been revered throughout the Southwest. The Pueblo's mill processes the corn for both wholesale and retail products. The blue corn is used in the Tribe's Corn Maiden restaurant at Hyatt Regency Tamaya Resort and Spa and in the resort's gift shop, and also the Prairie Star restaurant (http://mynewmexicogolf.com/prairiestar/). Santa Ana Pueblo corn products are also sold directly to the public at its Cooking Post retail and online outlet (www.cookingpost.com). Santa Ana Pueblo blue corn is also sold to La Montanita Co-op, an Albuquerque-based natural grocer that also supplies a number of restaurants, and Skarsgard Farms, a home food delivery business that serves the greater Albuquerque area. "We have an horno oven and can roast corn traditionally," Bronk says. "This is important for tribal members. Our atolé is very popular here at the Pueblo." Local brewery Kaktus Brewing Co. is using Santa Ana Pueblo's blue corn to brew a blue corn beer that is sold at the Tribe's resort.

Santa Ana Nursery grows native Southwest plants and trees, and sells wholesale to entities such as the U.S. Government. "We sell indigenous plants for big projects, such as river restoration work," Bronk says. "We just sold 5,000 butterfly weeds (Asclepias tuberosa) to the U.S. Government for a project. It's a type of milkweed for monarch butterflies." Santa Ana Pueblo also has its own Natural Resources Department that purchases plants and trees from the nursery for projects such as bosque restoration along the Rio Grande. This natural, wooded area is available to the general public via trails at the Hyatt Regency Tamaya Resort. Signage along the trail details plants' importance to Santa Ana Pueblo, and contributes to the guest experience at the Tribe's luxury resort.

The Santa Ana Garden Center grows and sells plants and trees to the general public (www.santaana.org/garden.htm). This forward-facing retail business has landscaped walking paths with signed plants and trees so that customers can identify what they like. Everything sold at the garden center falls within Zone 6, this region's growing zone. Located behind the Pueblo's Warrior Fuel gas station, the garden center is easily accessible off of U.S. 550 near the town of Bernalillo. "The Garden Center is really a business for the locals here," Brock says. "It makes us a part of the greater community here, and it brings people from Albuqueruqe who might otherwise come out this way and see the other businesses we have, even if it's just getting gas at Warrior Fuel. It's a unique nursery with a great reputation, so people make the trip. And hopefully when they're here, they'll check out our other businesses."

Santa Ana's newest agritourism enterprise is its Santa Ana Pueblo/Gruet Vineyard. The Tribe owns and manages the 30-acre vineyard, and sells the grapes to Albuquerque-based Gruet Winery that is known internationally for its Méthod Champenoise sparkling and other wines. Pinot Noir, Chardonnay and Pinot Meunier grapes are grown here, picked and sent to Gruet's winery that is just a few miles south of the vineyard in Albuquerque. Gruet wines are offered at the Tribe's Prairie Star restaurant near its Santa Ana Golf Club and at the Corn Maiden restaurant within its luxury Hyatt Regency Tamaya Resort, a joint venture with Hyatt Hotels that opened in 2000.
Without divulging figures, Brock says that most of the enterprises are financially profitable now. The alfalfa farming may only break even some years, but that enterprise benefits the Tribe in other ways, such as aiding Tribal members with their farming. "Sometimes the value of an agricultural business isn't always in money," Brock says. "In our case it keeps agriculture healthy and alive here, and that's what our main objective was in the beginning. To help the people of Santa Ana Pueblo continue to farm."
Agritourism
From the outset of its business enterprises, Santa Ana Pueblo wanted to be diversified, Brock says, and that meant sharing the agricultural enterprise with other Tribal enterprises. The Prairie Star restaurant opened in 1986, the same year as the blue corn mill, and still uses Santa Ana blue corn in several of its dishes. The former ranch-house-turned-restaurant is a long-time Albuquerque-area favorite, known for its e
xtensive wine collection and sunset views of the Sandia Mountains. Its dinner menu by Chef Myles Lucero features favorites using Santa Ana corn products such as Tamaya Cornmeal Crusted Calamari, and Roasted Sweet Corn Ravioli using a Tamaya yellow cornmeal dough with smoked bacon, fresh basil, garlic cream sauce and basil oil.
Additionally, it serves Gruet wine and sparkling wine made with grapes grown at Santa Ana Pueblo Vineyards. Within the resort itself, the Corn Maiden Restaurant is true to its name by serving Santa Ana corn in its Corn Maiden Salad (tomato, cucumber, jicama, avocado, corn black beans, chile lime vinaigrette) and in the Sweet Corn Bisque. Cornbread crumble is served with the Butter Lettuce Wedge salad, and sun-dried sweet corn is a key ingredient in the Crispy Green Chile Strips (New Mexico Hatch green chile, sun-dried sweet corn, cilantro lime crema). Santa Ana corn also complements entrees including the Airline Chicken (lavender honey, sweet corn jus, bacon, green peas, pea tendrils, freeze-dried corn) and Stuffed Poblano (Carolina Gold rice, Soyrizo, mushrooms, micro cilantro, sun-dried corn and cumin broth). Gruet is served at the Corn Maiden as well.
Patrick Mohn, executive chef at the resort's Corn Maiden and Santa Ana Cafe, says he and his team strive to incorporate traditional ingredients into the cuisine they make.
"A lot of the Pueblo cultures would gather tumbleweeds in the spring when they are tender as a microgreen, so we're starting to do that," he says. "It's rewarding because I would never have thought to do that, and our diners love it. We talk to Pueblo members and see if there are ingredients we should know about and work into the menu. Food traditions are a part of the story we need to tell."
Mohn says other traditional ingredients come from gardens and orchards found around the property, and that beehives produce up to 60 pounds of honey annually.
"You have to look to the past to move forward sometimes," he says. "It speaks to your soul and keeps that whole spirit of cooking for the right reasons in front of you."
Throughout the Corn Maiden and the resort, pottery by Santa Ana Pueblo artists is displayed, and landscape paintings and black-and-white photography speak to the Tribe's connection to the land. Large, colorful murals depict traditional life at the Old Village, with people harvesting corn and returning from hunting outings. Santa Ana Pueblo stories are depicted, too, including that of the Twin Warriors who protected the village. Twin Warriors Golf Club is named for these mythic heros as well. Kiva-style fireplaces add ambiance inside and on the patio looking out to the Pueblo's restored cottonwood bosque (woods) paralleling the Rio Grande, and the Sandia Mountains glow pink at sunset beyond. At the resort, a cultural center details the history of Santa Ana Pueblo for guests, and includes traditional farming artifacts such as hand-made tools as well as interviews with Tribal elders.
"People come to Tamaya (resort) to appreciate the culture of Santa Ana Pueblo, says Chrisie Smith, marketing director at Hyatt Regency Tamaya Resort. "Santa Ana Pueblo makes this resort special, and when Hyatt entered into this partnership with the Pueblo it was always to honor and exemplify what makes Santa Ana so special."
Smith explains that Tribal elders are invited to teach pottery classes to guests, and Tribal members lead nature walks in the bosque, give horno bread-baking demonstrations play flute music and share secular dances with guests. Beehives of 80,000 bees produce honey used in the restaurants and contribute to the agritourism mission here. A horse rescue and horseback riding through Pueblo land adds to the upscale and secluded ambiance of the resort, where the peaceful landscape is a major draw for resort guests.
"I don't know if Hyatt ever used the term 'agritourism' when we started this partnership with the Tribe, but it was always known agriculture would play an important role in everything here, from our food to our decor," Smith says. "You can't represent Santa Ana Pueblo without agriculture, and that's part of what makes this such a peaceful and nurturing experience."
For Santa Ana Pueblo, agritourism has benefited the Nation for more than 30 years, and has inspired other New Mexico Tribes to pursue agricultural projects as New Mexico's Tribes protect water rights and reclaim their agricultural traditions. And Santa Ana Pueblo isn't done exploring other agritourism projects.
"We'd love to move to the next step of having resort guests visit the vineyard for a tour and wine tasting," Bronk says. "And we're speaking with several entities about the possibility of growing hemp here."
Bronk acknowledges such a venture could be controversial, but believes it could be done properly.
"It's something we would want to be very careful with, but it's a rapidly growing and profitable industry. I remember how controversial the casino was. But as with everything we've done, if we respect and take care of the land, it'll take care of us."