With all there is to do when visiting the Seminole Tribe of Florida, it's guaranteed guests will work up an appetite. Fortunately, the Swamp Water Café serves "Seminole and American" cuisine that adds to the flavor of this Everglades adventure destination.
Local favorites such as fried frog legs and fried gator tail share the menu with Indian Tacos, Seminole fry bread with honey, bison burger, and shrimp and fish plates. Daily specials are offered as well with meals such as oxtail and black bean soup and picadillo with rice, black beans and plantains. Guests may dine inside or enjoy the rocking chairs on the large covered porch looking out to the Everglades.
The Swamp Water Café is next to Billie Swamp Safari, also a Tribally owned business that takes visitors on tours through the Tribe's 2,200 acres of pristine Everglades. Guests aboard airboats and swamp buggies keep an eye out for alligators, birds, snakes and the many other species animals that live in within Everglades ecosystem. Guides detail the natural history of the Everglades and the Seminole Tribe of Florida's relationship with their home.
Back at the air-conditioned Billie Swamp Safari Theater, guests can come nose to scaly nose with some of the 20 species of snakes found in the Everglades during the Everglades Snake Show. Snake keepers explain the vital role snakes play in the health of the environment here, and allow the audience to see up close these often misunderstood creatures. The Critter Show allows visitors to interact with white tail deer, skunks, baby alligators, gopher tortoises and other animals that call the Everglades home. Outside, Everglades animal exhibits showcase many other animals including a Florida Panther named Liberty and a pool of ever-playful otters.
A quarter-mile boardwalk through cypress trees leads to a reconstructed Seminole Village where visitors can see how traditional chickees (thatched-roof homes) were constructed. Guests can spend the night in one and go on nighttime tours into the Everglades aboard a swamp buggy. After, Seminole stories are told around a campfire as the sounds of the Everglades at night come to life.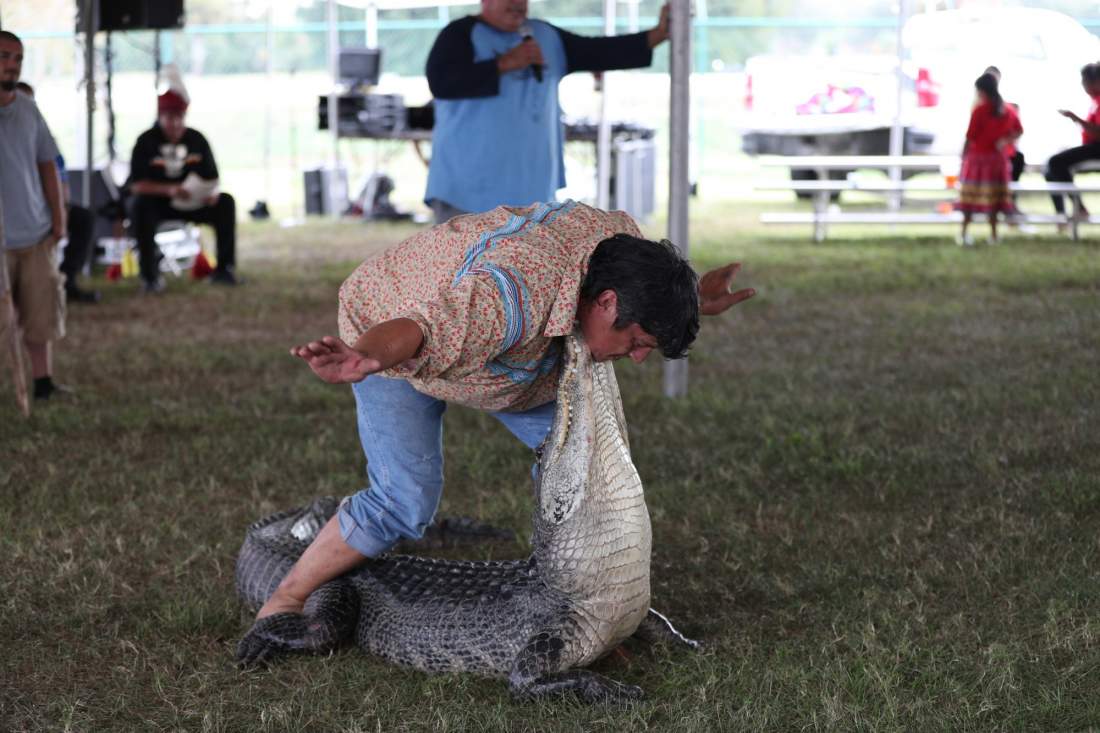 Four miles east of Billie Swamp Safari on Boundary Road the Ah-Tah-Thi-Ki Museum explores and celebrates the history and culture of the Seminole Tribe of Florida. Exhibits explain typical day-in-the-life activities for Seminole ancestors such as hunting, cooking, harvesting and gathering food, canoeing and ceremonies. Other exhibits detail Seminole Stickball, the importance of alligators to Seminole culture and the Catfish Dance, a ceremonial dance that is still practiced by the Seminole today. Demonstrations by Tribal members such as canoe building and dances, and events such as the annual American Indians Arts Celebration in November, take place at the museum year-round. Historic collections of art and clothing are displayed throughout the museum, and contemporary programs underscore the importance of Seminole culture and influence today.
For more information about Seminole Tribe of Florida, visit www.semtribe.com/stof.